GlobeSt.com, March 18, 2019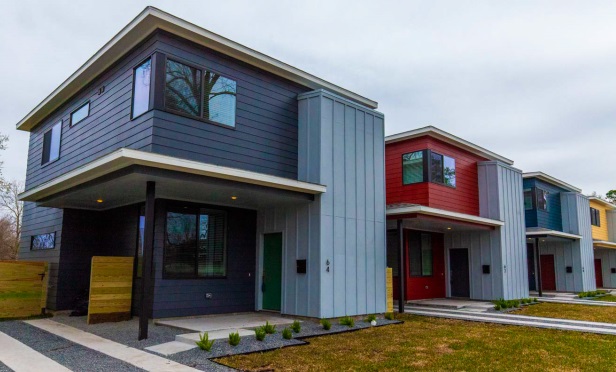 HOUSTON—Avenue recently completed construction on Phase I of Avenue Meadows, a new community of energy-efficient affordable homes located near the city's urban core in Northline. The community, which began construction in April 2018, features 10 energy-efficient single-family homes targeted for low- to moderate-income buyers, as well as market-rate buyers.
Designed and constructed by studioMET, the two-story three-bedroom homes offer slightly less than 1,200 square feet on a 5,000-square-foot fenced lot. Prices range from $179,000 to $189,000, as compared to Houston's median home price of approximately $237,500.
"We are delighted to bring this new development of quality affordable homes to the Northline neighborhood, a vibrant community situated minutes north of downtown Houston," said Mary Lawler, executive director of Avenue. "The completion of the first phase of Avenue Meadows comes at a critical time when Houstonians–especially low and middle-income families–face increased pressure due to escalating housing costs and a dwindling stock of quality affordable homes in and around the urban core. We look forward to welcoming families to Avenue Meadows and, through our additional supportive services including homebuyer education and counseling, to helping more working Houstonians achieve the dream of homeownership."
Of the 10 homes currently available at Avenue Meadows, two are still available for purchase. Avenue is currently advancing plans for the development of Avenue Meadows Phase II, which will include six affordable homes and complete construction in late 2019.
The Northline community is home to approximately 16,000 people, of which, more than 32% of which live below the federal poverty level, compared to Houston's overall poverty rate of 23%. Nearly 25% of residents are cost-burdened by housing, spending 30% or more of income on housing costs, GlobeSt.com learns.
Avenue is a local nonprofit organization dedicated to building affordable homes. Last year, Lawler emphasized the importance of developing quality affordable homes in the Greater Northside area because much of the existing housing stock is aging and in need of repair. Reinvestment will ensure the long-term health and prosperity of the neighborhood's families.
With this latest development, Avenue has created affordable homes that meet the needs of Houston's working families. All Avenue Meadows homes have an energy-efficient design and function, with Energy Star appliances, water-conserving plumbing fixtures, flexible PEX plumbing, high-performance windows and programmable thermostats for energy conservation. The homes also feature high-end exterior finishes including chrome hardware, low-maintenance HardiePlank exterior siding, drought-tolerant plants and a fully fenced backyard.
"We are proud to have worked with Avenue on this project," said Stephen Andrews, architect and principal for studioMET. "We strongly believe in their mission to provide quality affordable housing in our city and it is extremely rewarding to participate alongside them in their community-building efforts."
Situated at the intersection of Meadow Lea and Madie drives, Avenue Meadows has access to a wide variety of community amenities including Clark Park and Community Center, Moody Neighborhood Library and the MD Anderson YMCA. The community also offers close proximity to the Northline Transit Center, which links all of the area's bus routes to the North Corridor light rail line that connects residents to downtown Houston, Hermann Park and Texas Medical Center.
In recent years, Avenue has constructed 900 affordable homes and apartments in Houston, specifically in the greater Northside community. In Near Northside, Avenue has developed Fulton Gardens, an 88-unit senior apartment building that is situated along the METRORail; Avenue Place, a 95-unit single-family subdivision; Avenue Terrace, a 192-unit multifamily complex; and Avenue Station, a 68-unit multifamily complex. Earlier this year, Avenue unveiled plans to develop Avenue Center, a new mixed-use community resource hub to be constructed across from Moody Park in Near Northside.
These developments offer Houstonians affordable housing prices and access to a variety of amenities, including after-school programs and community enrichment opportunities. In addition, Avenue also offers comprehensive homebuyer education classes that help first-time homebuyers, as well as current homeowners, navigate the path of homeownership.
"A large part of our work involves educating first-time homebuyers and promoting affordable homeownership," Lawler tells GlobeSt.com.  "Through our homeownership center, Avenue has supported 13,289 households on the path to becoming first-time homeowners through HUD-certified homebuyer education classes, individualized homebuyer education counseling and down payment assistance. We also offer foreclosure prevention counseling to help families proactively maintain their home and protect their long-term financial stability. These services are available in both English and Spanish, and provide Houston's working families with the tools they need to become successful sustainable homeowners."
Avenue helps prospective homebuyers create a roadmap to homeownership. First-time homebuyers classes cover these topics: Reviewing finances to determine an affordable home purchase price and loan amount that fits within a specific budget, learning about different loan options and how to decide which is best for a given household, understanding the process of buying a home to avoid common pitfalls, protecting the long-term investment, and determining eligibility for assistance programs that can help with down payments and closing costs.
After completing the first-time homebuyers class, clients can sign up for individualized homebuyer counseling, which helps families complete a budget to determine the total mortgage payment that can be afforded in the long term, calculate debt-to-income ratio just as lenders will to estimate how much mortgage can be approved, look at different payment scenarios based on different loan amounts, products, terms and assistance programs; and discuss questions and develop an action plan.