KPRC Click2Houston, September 11, 2018
HOUSTON (By Cathy Tatom, Investigative Producer) – When Hurricane Harvey hit, donations poured in as fast as floodwater to help our neighbors in need.
The Hurricane Harvey Relief Fund, set up by Houston Mayor Sylvester Turner and Harris County Judge Ed Emmett, raised $114 million from 120,000 donors.
Now, one year after the storm, many of you want to know: What happened to all that money?
A 10-person advisory board made up of community leaders set priorities for the fund. The Greater Houston Community Foundation helps manage it and collects information on how the 123 agencies and charities that received relief fund grants are spending the money.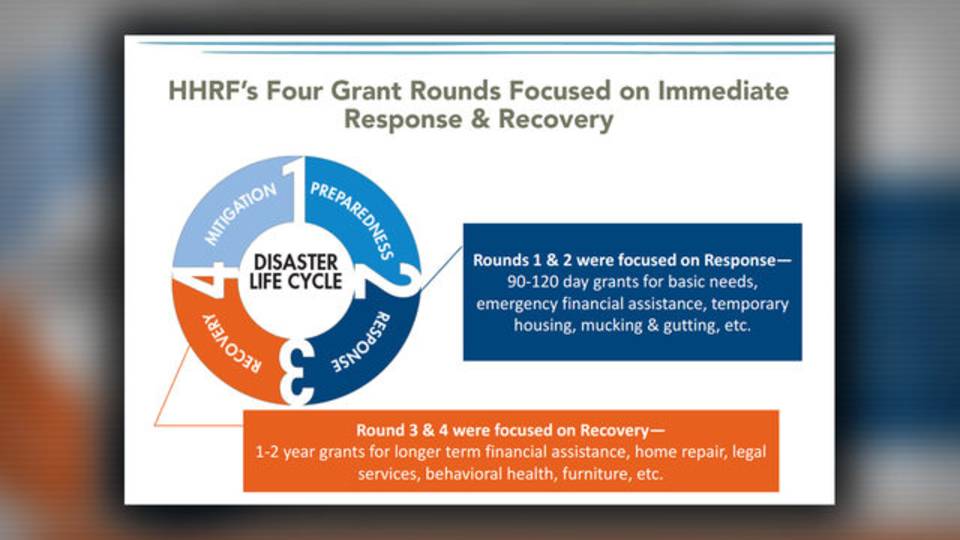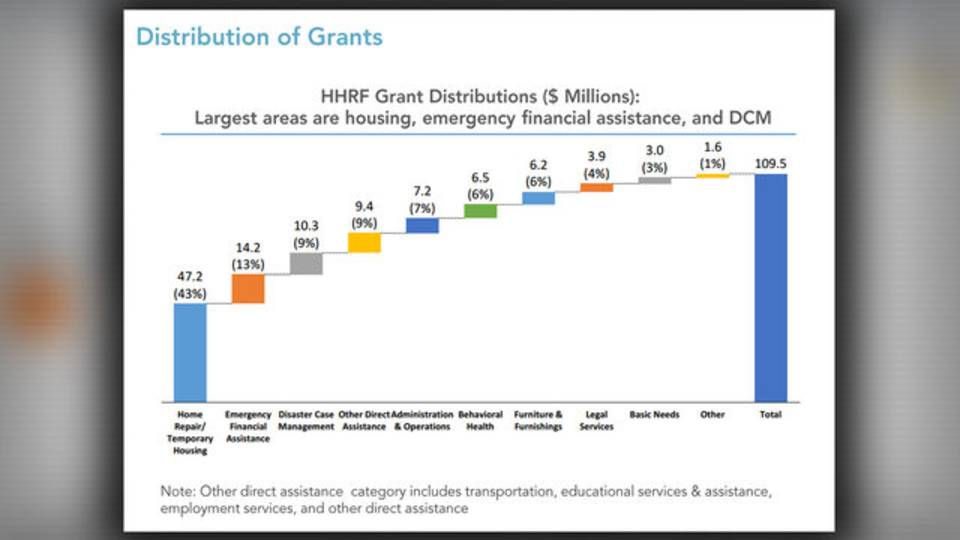 Renee Wizig-Barrios, of the Greater Houston Community Foundation, told Channel 2 Investigates, "They're all required to do very comprehensive reporting to us about how the funds are being spent and how many people are being served."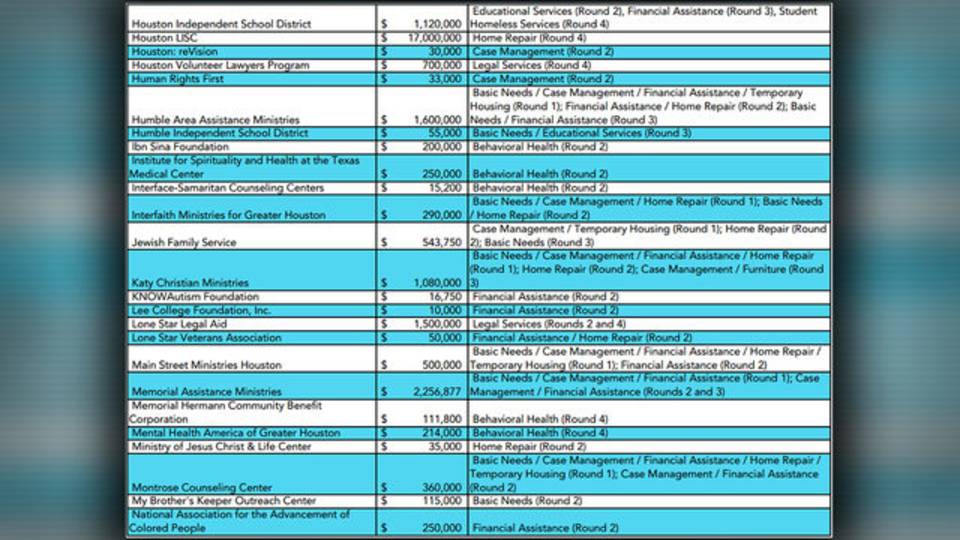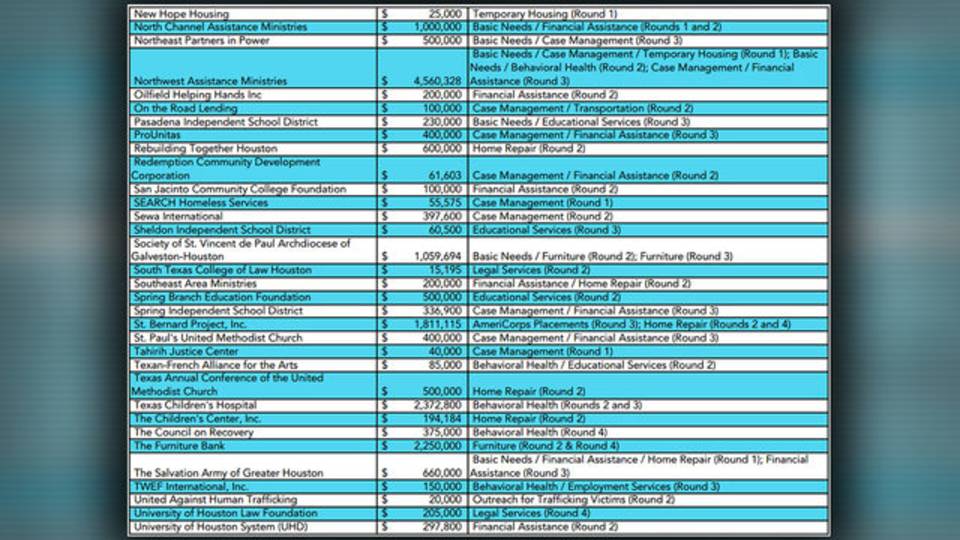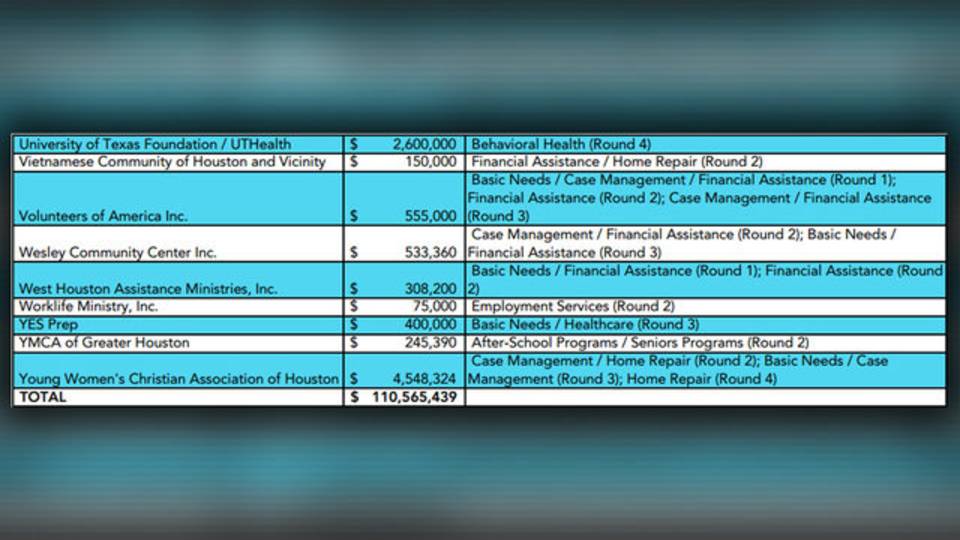 As of August 2018, quarterly reports filed by the agencies show that 150,000 households in Harris County have already gotten help and the agencies and charities are on track to help a total of 190,000 households by the end of next year. Minorities make up 86 percent of those getting help, and 63 percent of recipients have incomes at or below the federal poverty level, which is defined as a family of four earning up to $25,000 a year.
These charts show how much had been allocated and spent for each type of service as of June 2018.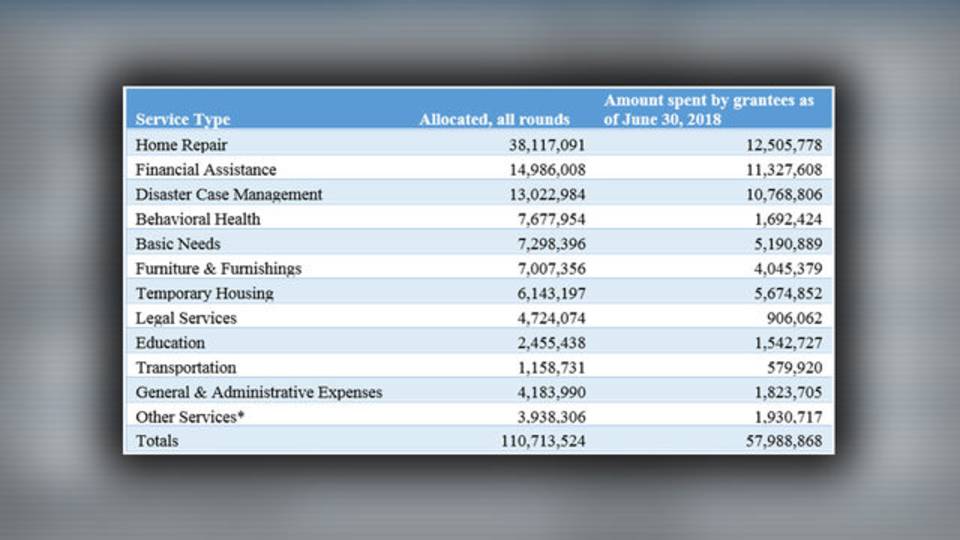 According to Wizig-Barriors, "Almost half of the people we've served are renters. So not everyone in Harris County who needed help was a homeowner."
The Hurricane Harvey Relief Fund money was doled out in a series of four grant rounds over the past year. The first round dispersed about $7 million to provide for immediate basic needs, such as food, water, clothing, temporary housing, cleaning supplies and hygiene kits.
Wizig-Barrios said, "Quite honestly, in the beginning, there wasn't much data and information. But there was obviously an immediate need that needed to happen just to make sure nobody was gonna be homeless, were getting food and water, and people could be in temporary housing."
The relief fund commissioned a needs assessment study from the Rice Kinder Institute and used information about requests for help from the calls received on the 211 and 311 help lines to determine where money was most needed.
Wizig-Barios said, "So while Harvey impacted all of Harris County, there were areas where there was this concentration and a convergence of a very vulnerable population and an extreme amount of damage."
Those most in need were identified as the low-income, elderly, disabled, veterans, undocumented people and children.
During grant rounds one and two, a total of 4,063 households got help with temporary housing. As of August 2018, $5,674,852 of the $6,143,197 for that purpose had been used.
Rental and temporary housing assistance funds were spent on short-term housing, which can include, but is not limited to, rental payment assistance, hotel vouchers, assistance with a down payment, and mortgage or property tax payment assistance. These funds are for individuals who require assistance while their homes are in the course of being repaired.
The focus for the coming years has shifted to providing mental health care, legal assistance and home repairs for low-income homeowners without enough insurance or other means to fix up their houses.
For instance, Drusella Henry has lived in her home in northeast Houston all her life. She got help from two agencies getting Hurricane Harvey Relief Fund grants to fix its flood damage. Lone Start Legal Aid agreed to help her appeal the Federal Emergency Management Agency's initial denial of her claim to fix her roof. Repairs had to be made to the roof before 5th Ward Community Redevelopment Corp. could hire a contractor to make repairs to the interior and exterior of the house.
So far, agencies receiving Hurricane Harvey Relief Fund grants report spending $12,505,778 of the $38,117,091 earmarked for home repairs. There are 923 finished homes, and just over 1,000 more will be fixed up over the next year. Grant funds can only be used to make necessary home repairs, not enhancements.
Home stabilization and minor home repair funds are used to make the minimum repairs needed to bring a home up to safe and habitable standards. At a minimum, a stabilized home includes a working bathroom, kitchen, one private bedroom and a non-leaking roof.
Activities conducted include but are not limited to:
Removal of debris to allow safe access to home and living areas
Assessment and removal of mold and other unhealthy substances such as lead, asbestos, etc.
Certified inspections to ensure environmental and safety standards are met
Utility and electrical repairs to ensure safe systems for heating; heating, ventilation, and air conditioning; cooking and refrigeration
Repairs to plumbing and sewage systems, including septic tanks and drainage
Roof, flooring, and other repairs necessary for safety and mitigating further water damage
Dry wall and insulation installation.
Full home repair funds are used for any homes that are repaired beyond stabilization or minor repair, including cabinetry, interior doors, finishings, completed new flooring, etc.
On average, major home repair costs have ranged from $20,000 to $30,000 per home and taken up to 12 weeks to complete.
PHOTOS: Harvey-caused damage at Crystal Wicks' home
Nursing student Crystal Wicks lives just a few hundred feet from Halls Bayou and about 5 feet higher than street level in her neighborhood. As the storm rages on the first night of Hurricane Harvey, floodwaters burst over the top of the bayou and quickly raced down the street. She and neighbors fled to higher ground as the flood current gathered speed and waters quickly rose. Several days later, after the floodwaters receded, she was able to get back into the home she has owned since 2010. She said the sight was overwhelming. "There was stuff everywhere, like, my walls were falling down," Wicks said.
Six feet of water had filled the house, destroying just about everything inside, along with her Jeep, which was out front in the driveway.
BuildAid was formed by local builders who wanted to help storm victims. It reports using 100 percent of the Hurricane Harvey Relief Fund grant money it received to repair homes.
Its work on Wicks' home will be done in mid-September and she couldn't be happier.
"To see it today, it's a blessing from above," she said.
Many agencies and charities getting relief funds are using 100 percent of the money for direct aid. Wizig-Barrios said they are able to do so because they have other funding sources that cover overhead and administrative costs. Those that don't are using, on average 8 percent of what they get in relief fund grant money to cover those expenses.
Antonio Zavala lives a few streets away from Alicia Gonzalez on the near north side of downtown Houston. Hurricane Harvey tore shingles off Zavala's home, allowing rain to leak inside. Two bedrooms and a bathroom were soaked and the result was a moldy mess. The storm caused much more damage to Gonzalez's home of more than 30 years. They each discovered only recently that they could get help with repairs from agencies funded by Hurricane Harvey Relief Fund grants.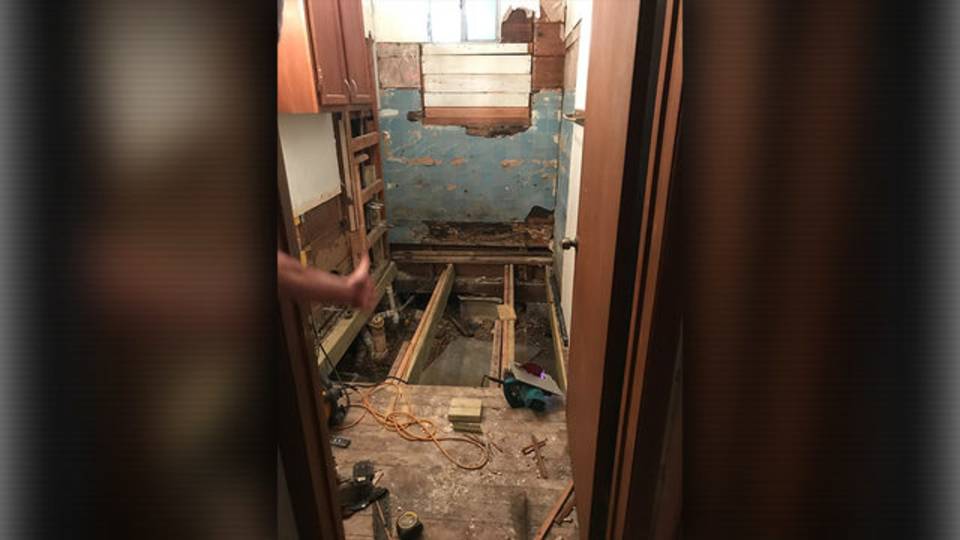 Work is just getting started on Gonzalez's home. She told Channel 2 Investigates, "They're fixing the floors. They're gonna fix the walls, and probably the ceiling, new roof. So, actually, I'm gonna get, like, a new house."
At Zavala's home, work is almost complete. He said, "We just wanted the roof fixed so the water wouldn't come in any more, but they said, 'No, we're gonna do this. We're gonna fix the bathroom.' So they tore the floor out and put in a tub. You ought to see the bathroom. It's very pretty."
One of the big revelations for agencies providing assistance one year later is that people still don't know how or where to turn for help, get frustrated and give up looking, or simply don't know that help is still available. The Greater Houston Community Foundation created a website in June called Harvey Home Connect. It's a one-stop site to connect those seeking help with home repairs with agencies that provide that type of assistance.
Berenice Yu, with Avenue Community Development Corp., explained how it works. "Anybody who is seeking assistance for home repair can go online or call one of the partner organizations to get help submitting their application, and it's a coordinated effort where the agencies are listing what capacity they have, when they can take on new clients. We're all following the same guideline. It's one application. So you fill it out one time," Yu said.
And you can still apply. Yu told Channel 2 Investigates that the one-time application process is an important innovation.
"It's essential to the recovery process because, without it, then clients are having to fill out multiple applications and providing personal information to various organizations to see who can help them. They're not having to retell their story and relive their trauma every single time," Yu said. "It puts more of the burden on the agencies and less on the homeowner. We've also seen that homeowners get disaster fatigue. They just get tired of looking for help. They get tired of getting told no, or lines, or filling out forms, and, at some point, we see families who have given up in seeking assistance and we don't want them to reach that point. We want them to get the help that they need and that there are resources for, so by making the application easier and more streamlined for them, they can get them to that help faster."
Copyright 2018 by KPRC Click2Houston - All rights reserved.