GlobeSt.com, May 2, 2018
Although Houston was in the midst of an affordable housing crisis before Hurricane Harvey, the devastating aftermath further exacerbated the issue, however, Avenue Station adds to the affordable inventory.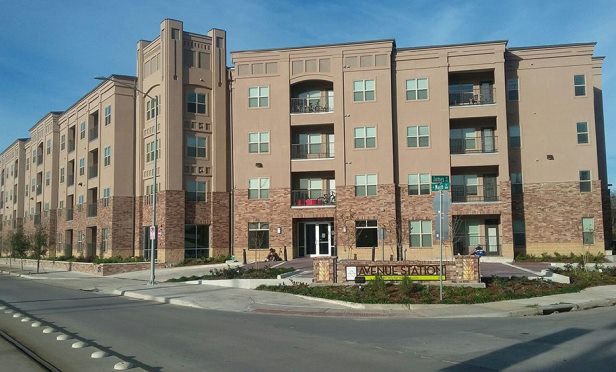 HOUSTON—The Near Northside neighborhood was designated as one of mayor Sylvester Turner's five Complete Communities last year. And now, Avenue and the city's housing and community development department have officially unveiled Avenue Station, a new affordable multifamily development in that neighborhood.
The $13 million development, which completed construction in late 2016 and is currently 100% leased, was funded primarily through the second round of the general land office disaster recovery funds administered by the city after Hurricane Ike in 2008. It received additional funding from Capital One, Houston Endowment, Local Initiatives Support Corporation, JP Morgan Chase & Co. and National Equity Fund.
The community features 68 affordable units with floorplans ranging from efficiencies to one-, two- and three-bedroom homes. A majority, 81%, or 55 of the units are designated for low-income tenants making 30%, 50% and 60% of area median income, while a total of 13 units–roughly 19% of the building's overall inventory– are priced at market rate.
"Although Houston was already in the midst of an affordable housing crisis before Hurricane Harvey, the devastating aftermath of the storm–specifically the loss of naturally occurring affordable housing–further exacerbated the issue," said Mary Lawler, executive director at Avenue. "While we are excited to be able to add to the affordable inventory of homes in the Near Northside, this project also shows that disaster recovery is a years-long process. As we continue to recover from Hurricane Harvey, it is important that we continue to allocate and invest disaster recovery funds in housing solutions that are healthier, more affordable and more sustainable for our city's future."
Situated in Houston's urban core, the Near Northside is home to approximately 25,000 people–more than one-third–living below the poverty line, compared to Houston's overall poverty rate of 23%. Nearly 40% of residents are housing cost-burdened, spending 35% or more of income on housing costs. While increased development in and around the urban core has escalated housing costs throughout the neighborhood, Lawler noted that communities such as Avenue Station and the city's proposed Hardy Yards development will help replenish the stock of affordable homes in the area.
"In recent years, Near Northside homeowners and renters have faced escalating housing costs," Lawler tells GlobeSt.com. "With Avenue Station, we were committed to providing quality affordable living in the urban core that meets the needs of Houston's working families. That's why, in addition to modern apartment amenities, we have also focused on providing residents on-site access to valuable support services that enhance their quality of life."
Avenue has focused on developing safe and affordable rental homes that improve the quality of life for low-income families. Residents at Avenue Station can also participate in other supportive services and social programs, such as cooking and nutrition classes, after-school tutoring, art classes, homebuyer education and one-on-one financial counseling.
"One of the key concerns for Houston after Hurricane Harvey is affordability. The storm damaged an estimated 120,000 single family homes in Harris County alone and led to the displacement of thousands of families. Unfortunately, our community's most vulnerable populations, specifically low-income families, were the most severely impacted," Lawler tells GlobeSt.com. "As Houston continues on the path to recovery, disaster recovery funds like those allocated to Avenue Station will play a critical role in the rebuilding process and getting working families back into healthy affordable homes as quickly as possible."
Located at 2010 N Main St. along the Metro North light rail line, Avenue Station is an transit-oriented development that offers residents access to several parks and green spaces, including Hogg Park, Woodland Park and Moody Park, as well as close proximity to local schools including Ketelsen Elementary School, Northside High School, Marshall Middle School and Sherman Elementary School. The community's location along the light rail line also connects residents to downtown, Hermann Park and Texas Medical Center.
In recent years, Avenue, a HUD-certified agency, has constructed several affordable housing communities in the greater Northside neighborhood, including Fulton Gardens, a 49-unit senior apartment development that is situated along the METRORail; Avenue Place, a 95-unit single-family development; and Avenue Terrace, a 192-unit multifamily complex. In the neighboring Northline community, Avenue recently announced Avenue Meadows, a new 10-unit single-family development targeted to low- and moderate-income families, as well as market-rate buyers. In addition to affordable living, all multifamily developments offer access to after-school programs and community enrichment opportunities.