Houston Business Journal, July 28, 2020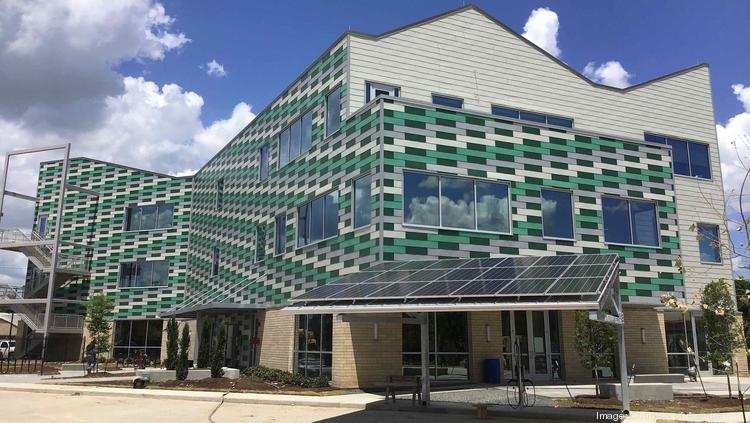 The facility, called Avenue Center, will offer virtual services until in-person services can safely resume. The grand opening celebration for Avenue Center is tentatively scheduled for early 2021.
Avenue also partnered with the YMCA of Greater Houston to create an early childhood education component, called YMCA Children's Academy, which will be on the first floor of Avenue Center. The new Children's Academy will replace an existing YMCA program currently housed at Second Christian Church.
Avenue told the Houston Business Journal that an early childhood education center has been part of the plan for Avenue Center since the beginning. Partnering with the YMCA of Greater Houston came about as a result of a strong existing relationship from previous years working with Avenue.
Page Southerland Page Inc. designed Avenue Center, and Houston-based Arch-Con Corp. is handling construction. Construction on the academy and the outdoor playground began in July, and services are expected to open to the surrounding community in late fall 2020.
Avenue Center will also hold other programs and services for the Greater Northside community, including a new Legacy Community Health Clinic, homebuyer education and counseling, post-purchase and foreclosure prevention counseling, financial education through the BBVA Center for Financial Education, and space for community meetings and training classes.
While Avenue's headquarters and services, such as financial education and homebuyer education and counseling, will continue virtually, other amenities, including the YMCA Children's Academy and Legacy Community Health Clinic, are still under construction.
Additional programs and services separate from Avenue's are expected to open to neighborhood families between late 2020 and early 2021.
The YMCA's new early education center is a response to the shortage of early childhood education capacity in the Near Northside community. The YMCA will provide infant care and accommodate up to 70 children, ages ranging from 6 weeks to 5 years.
With the new facility, the YMCA will be able to expand its services in a building designed to address the Near Northside community's developmental and educational needs and increase access for low-income families. Financial assistance will be available to help with monthly costs.
"Recent studies have shown that more than 40% of the neighborhood's children reside in a household where both parents work, which requires childcare outside of the home," Mary Lawler, executive director at Avenue, said in a statement. "The facilities at the YMCA Children's Academy will not only help address this pressing need, they will also contribute to the long-term health and wellbeing of working families in the neighborhood."
Avenue has an ongoing campaign, Avenue Center Capital Campaign, with a $12 million goal. As of the July 20 press release, the campaign has raised more than $10.6 million for Avenue Center. The local nonprofit received donations from organizations including $3 million from the city of Houston and $1 million from BBVA, Complete Communities Improvement Fund and the Houston Endowment.
Even after the nonprofit reaches its goal, its capital campaign will be ongoing and continue to support its ability to offer vital programs and add new services to meet the needs of neighborhood residents, Avenue told the Houston Business Journal.
Separately, the YMCA of Greater Houston has another partnership in the works with Houston-based Reliant Energy. The two organizations are collaborating to create a new center focused on equity and inclusivity.
The Equity Innovation Center Powered by Reliant is being developed inside of the Tellepsen Family Downtown YMCA. The roughly 3,100-square-foot center will provide educational resources, workshops and other activities centered around addressing racial inequalities and biase